Massachusetts man allegedly plants fake bomb at Harvard, tries to extort money after answering Craigslist ad
A Massachusetts man planted a fake bomb on Harvard University's campus in an attempt to extort a "large" amount of Bitcoin from the Ivy League school, according to a criminal complaint unsealed Tuesday.
William A. Giordani, 55, was arrested on Tuesday, May 2 by FBI agents in Massachusetts and was charged with conspiracy, along with aiding and abetting an extortionate threat.
According to an affidavit by Harvard University police officer Thomas Karns, working with the FBI's Boston-area Joint Terrorism Task Force, Giordani answered a Boston Craigslist ad posted on April 11, allegedly from a man named Nguyen Mihn, with a New Jersey phone number, offering $300 to somebody who could buy and deliver "some item" to his eldest son, a Harvard University student.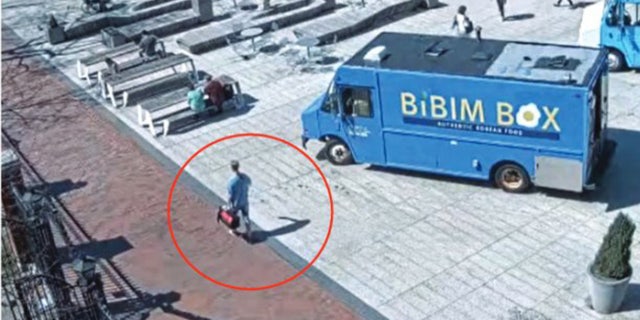 Giordani allegedly fulfilled the requests and bought fireworks in New Hampshire and several items from a Massachusetts' Home Depot store, including a sturdy tool bag, a safe, and wires.
Shortly before 2:30 p.m. on April 13, the Harvard University Police Department (HUPD) received a call from a computer-generated male voice, the complaint states, noting that it came from the same New Jersey number that placed the Craigslist ad.
"There are three bombs planted around the Harvard Campus, and we are ready to provide undeniable proof," the distorted voice said. "For the sake of the student do not hang up until we have had a chance to demonstrate that this situation is real."
ANA WALSHE MURDER: HUSBAND BRIAN WALSHE THREW OUT HACKSAW WITH POTENTIAL KEY PIECE OF EVIDENCE: DOCUMENTS
Each device had "an explosive yield of at least 80 megajoules and contain several pounds of metal shrapnel," the caller continued, saying that the force would kill at least 40 students and injure hundreds more.
The caller gave the Harvard police 100 minutes to meet his demands and told the HUPD to prepare to pay "a large bitcoin transaction", according to the complaint.
"In the meantime, you should begin preparing a large bitcoin transaction as soon as possible so that any technical difficulties can be resolved in the next 96 minutes," the caller continued. "We also request that you send the bitcoin using the fastest available transaction speed because if we cannot completely confirm payment when 100 minutes is up we will detonate the bombs regardless of whether there is a transaction in progress."
According to the complaint, the caller said that the exact bitcoin amount would be supplied in following text message.
Between 2:36 p.m. and 4:06 p.m., the HUPD received six additional calls—five of them from the New Jersey number—with demands for payment.
During the fourth call, the caller said that one of the explosives was in the Science Ceter Plaza, a popular spot for students at Harvard University. The caller said that the device was in a red-and-black Husky tool bag located between food trucks.
LINDSAY CLANCY'S HUSBAND 'BEGGED KIDS TO BREATHE' AFTER MA MOM ALLEGEDLY 'HEARD VOICES' TO KILL THEM
Police shared that April 13 "was the first 80 degree day of the spring, a day when students and other members of the Harvard community would reliably be eating, studying, and socializing in the plaza and other outdoor spaces on campus."
According to the complaint, just after 2 p.m., an hour and 15 minutes later, police spotted Giordani by the Harvard Webcam walking onto the plaza with the red and black Husky tool bag.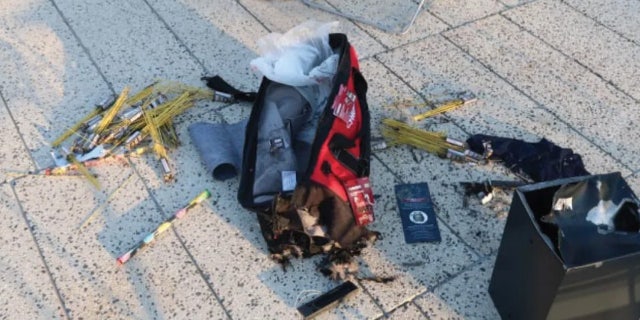 Police immediately arrived, found the bag and quickly evacuated the plaza and nearby buildings. The entire Harvard community was issued a campus-wide alert informing students and faculty of the bomb threat.
The Cambridge bomb squad was requested and used a robot device, which "executed a controlled destruction" of the bag, the complaint states.
Investigators also found "a metal locking safe," containing a package of wire, fireworks, and a small rectangular box with wires attached to it.
The package of wire had a yellow Home Depot sticker attached to it with the name "Nguyen Minh" on it, and the same New Jersey phone number the Craiglist poster and caller had used. It also included an order number, the store manager's name, and the phone number of a Home Depot in Boston.
On April 25, law enforcement had enough evidence to link Giordani to the crime. They called him, and he agreed to meet them in Tyngsboro, Massachusetts at 10 a.m. on April 27, 2023. Giordani allegedly failed to appear. 
TEXAS SHOOTING SUSPECT'S LOCATION CAME THROUGH FBI TIP LINE: 'COURAGE TO CALL'
Later, Giordani agreed to meet with FBI at their Bedford, Massachusetts office with his mother on May 1. 
On May 1, Giordani's mother was the only one that came to the agreed meeting, she shared that he was "afraid that he would be arrested for transporting fireworks across state lines," the complaint states. Eventually, GIordani agreed to speak to officers on speakerphone.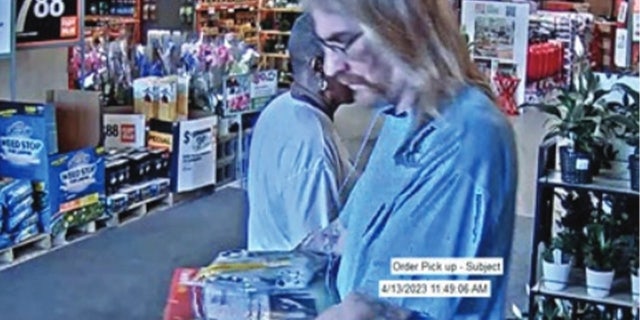 The affidavit shows the phone call transcribed as the agents listened in:
"Giordani also told DR (his mother) that he spoke to the person who placed the Craigslist ad and that person told him that he would be calling Harvard Police to make a bomb threat to get money. Giordani also stated that at the caller's direction, he then traveled to Worcester to get paid. When Giordani arrived in Worcester, the person told him that he wasn't able to meet, and added that he wasn't Asian (as claimed in the Craigslist ad), didn't have kids (as claimed in the ad), and started "spouting off a bunch of racist things about blacks and Jews."
Giordani then asked his mother to come to pick him up at a specific location in Nashua, New Hampshire.William A. Giordani, 55, was arrested on Tuesday by federal agents and remains detained pending a Friday court hearing. 
The affidavit states the agents then drove his mother to Nashua where they approached him and introduced themselves. He began to yell at his mother for bringing the agents to meet him, the complaint says.
Officers attempted to calm him down and requested to speak with him about the Craigslist ad and the events at Harvard.
Giordani refused to give access to his phone or to discuss the incident in detail, claiming that the phone was "his business phone" and that there were also intimate photographs on the device.
While declining to show officers his mobile phone, Giordani admitted that he knew what he did was wrong and that he "just put some fireworks in a safe and put them at Harvard."
Police shared that Giodani "did aid and abet another individual who, with intent to extort from Harvard University a thing of value, transmitted in interstate or foreign commerce a communication containing a threat to injure the person of another."
CLICK HERE TO GET THE FOX NEWS APP
Nguyen's identity, if he is a real person, is unclear. Giordani is scheduled to appear in court on Friday, May 5 when a lawyer will be appointed to represent him, according to court records.
If convicted on both charges, Giordani faces a combined maximum of 25 years in prison.