4K Ultra HD Release Sneak Peek
Journey back to sixth-century England—by way of 1981 fantasy-movie aesthetics—with Dragonslayer, the tale of a sorcerer's apprentice (Peter MacNicol) who must tangle with the local fire-breathing menace, delightfully named Vermithrax Pejorative. The cult-classic film has a sparking new 4K Ultra HD release, and io9 has a clip to share from its new special features!
Here's a look at the clip, which comes from a behind-the-scenes featurette titled The Slayer of All Dragons. It features Dragonslayer director and co-writer Matthew Robbins (who supervised the 4K restoration) speaking about the film's origins, including a bit about his relationship with George Lucas as well as how the movie ties into J.R.R. Tolkien and Dungeons and Dragons. Elsewhere, the featurette also brings in the perspectives of "dragon supervisor" and acclaimed effects pioneer Phil Tippett, as well as ILM visual effects wizard Dennis Muren.
Go Behind the Scenes of Fantasy Classic Dragonslayer in This Special Edition Sneak Peek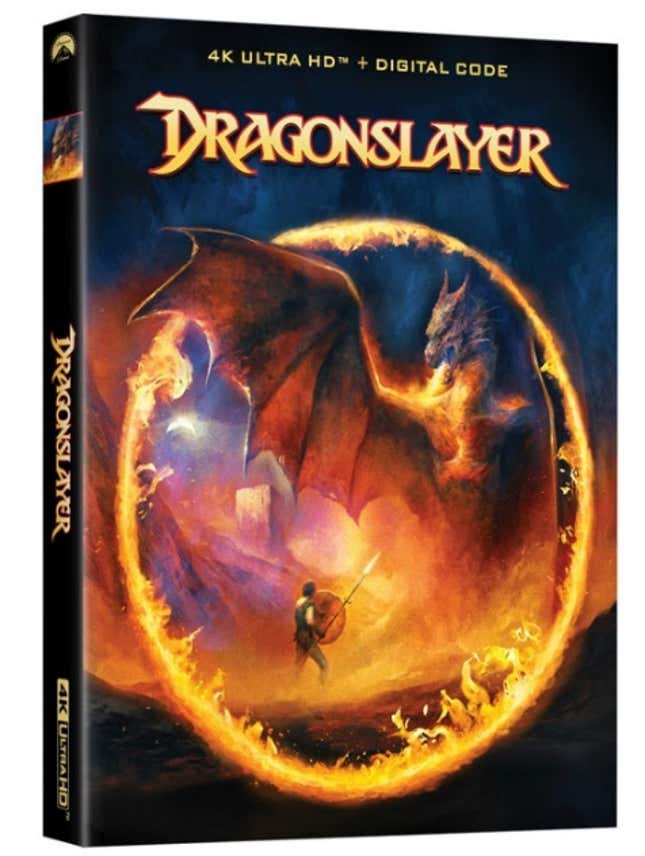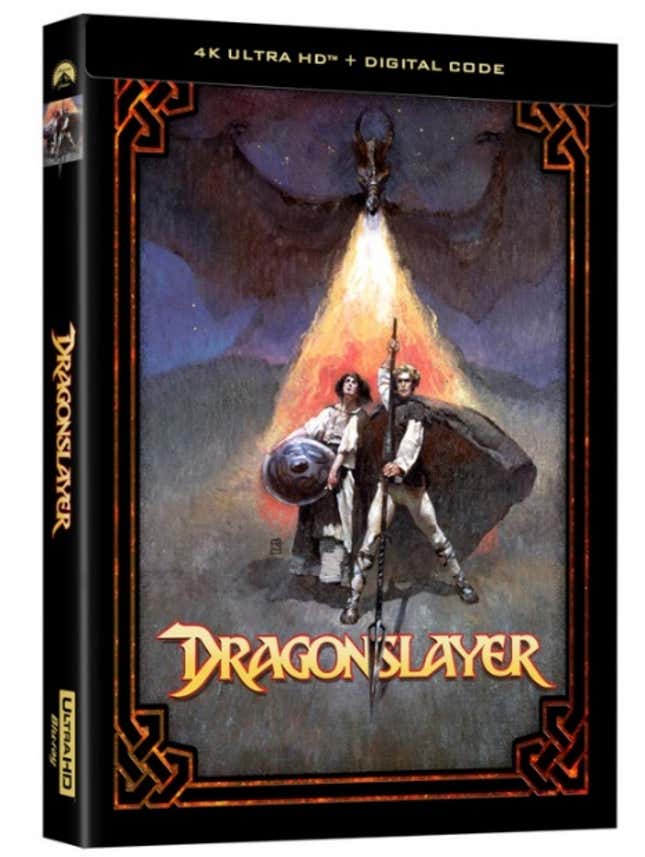 All told, the release features over an hour of new bonus content, as well as a new commentary featuring Robbins and noted monster enthusiast Guillermo del Toro—plus the original theatrical trailer and screen tests. Here's a rundown of all the new special features:
THE SLAYER OF ALL DRAGONS 
Step back in time with director/co-writer Matthew Robbins, dragon supervisor Phil Tippett, and ILM's visual effects master Dennis Muren as they revisit Dragonslayer. Their stories and memories take viewers deep into the dragon's fiery lair as they recount the challenging journey from concept to screen.
A look back at the impact of Star Wars and its visual effects on Hollywood, the origin of Dragonslayer and its screenplay, and the film's casting.
Pre-production begins in England as the film takes shape. The young filmmakers seek gritty medieval realism through the production design, cinematography, and costumes.
The filmmakers take on the daunting task of bringing a dragon to life like never before, utilizing every ounce of movie magic available including Phil Tippett's breakthrough go-motion animation, cutting-edge practical animatronics, visual effects, and compositing.
Production woes at every turn, horrific baby dragons, and the challenge of creating Vermithrax's iconic lair plague the filmmakers. Phil Tippett offers a mini-masterclass on crafting powerful creature performance through detailed animation.
The team faces the unique challenges of the film's stage-bound climax, filmed entirely against a blue screen. Director Matthew Robbins looks back on the incredible work done in the final stages of film editing, the beautifully dense sound design, and Alex North's amazing score, which utilized pieces from his legendary unused 2001: A Space Odyssey score.
---
In addition to the bonus content and the film itself (plus access to a digital version of the film), Dragonslayer's Limited Edition Collector's 4K Ultra HD SteelBook features "collectible packaging with a removable O-sleeve featuring an image of the theatrical poster, which, when removed, reveals original artwork of the final battle with Vermithrax Pejorative."
You can also pick up the film in a non-steelbook version 4K Ultra HD release, as well as on Blu-ray; both of those versions include all the bonus content. They're all out today, March 21.
---
Want more io9 news? Check out when to expect the latest Marvel, Star Wars, and Star Trek releases, what's next for the DC Universe on film and TV, and everything you need to know about the future of Doctor Who.