Anthony Davis enters Lakers history with incredible Game 1 performance in win over Warriors
The Los Angeles Lakers survived a 14-0 Golden State Warriors run in the fourth quarter to win Game 1 of their second-round playoff series on Tuesday night, 117-112.
Anthony Davis came through with a huge game. In 44 minutes, he had 30 points, 23 rebounds, five assists and four blocks. He etched his name into Lakers lore with the stat line.
CLICK HERE FOR MORE SPORTS COVERAGE ON FOXNEWS.COM
He became the fourth Lakers player to have at least 30 points, 20 rebounds and five assists in a single playoff game, joining Wilt Chamberlain, Elgin Baylor and Shaquille O'Neal as the other players to have accomplished the feat, according to the TNT broadcast. 
O'Neal was the last Lakers player to have a 30-point, 20-rebound game in the playoffs.
"Just stealing home court," Davis said when asked why he believed Game 1 was a must-win game for the Lakers. "We know that this team is the defending champions and we saw what they did against (Sacramento) down 2-0, go 2-2, down 3-2, and come off and Steph have a 50-pont night to seal it off. But no lead is safe with them, obviously as we saw they could get hot at any moment but it's just a mindset for our team knowing that we can win in this building, we can beat this team. A confidence booster for us.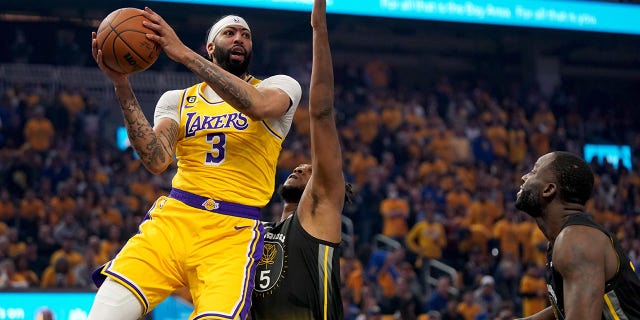 KNICKS TAKE ADVANTAGE OF JIMMY BUTLER'S ABSENCE, BEAT HEAT TO EVEN SERIES IN GAME 2
"We didn't do anything. We came in. We got a game but, like I said, last year we seen what this team can do. We know what this team can do, what they're capable of."
LeBron James added 22 points, 11 rebounds and five assists. Dennis Schroder added 19 points off the bench. D'Angelo Russell also had 19 points.
Golden State clawed back into the game and gave Los Angeles a bit of a fright. Stephen Curry started a 14-0 run at the 5:19 mark in the fourth quarter and the Lakers didn't score again until Russell made a layup with 1:24 to go in the game.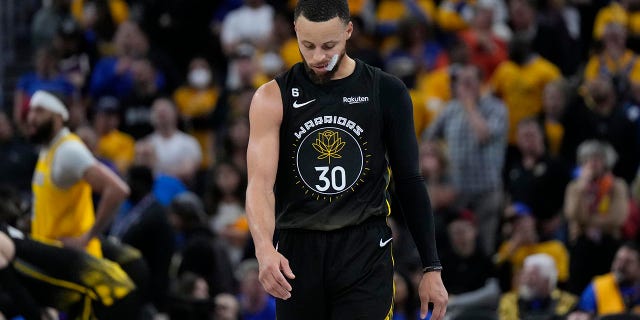 The Warriors cut the deficit to three points with 9.1 seconds remaining. Jordan Poole pulled the trigger on a 28-foot three-point attempt but came up short. The Lakers would put the game away from there.
Curry led Golden State with 27 points. Klay Thompson added 25 points. Kevon Looney had 10 points and 23 rebounds in the game. Poole added 21 points off the bench.
CLICK HERE TO GET THE FOX NEWS APP
Game 2 is set for Thursday night.